Penny Raven and Harlow Rose are 2 year and 22 month old English Bulldogs.
Favorite Activities: Sleeping and going to the dog park
Favorite toy: Buffalo Horn
Favorite Treat: Bone-A-Mints
Special Talent: Being adorable & cute
Mom & Dad report Penny has the cutest waddle when she walks and loves to cuddle.  She got her name because her fur is like a Penny and the Baltimore Ravens are her families favorite football team. Harlow, on the other hand, came with her name when she was adopted and she is also super sweet and loving. They both have brought a lot of joy to their family.
Congratulations Penny Raven and Harlow Rose on being our staff's pick for Pet of The Month – March 2015!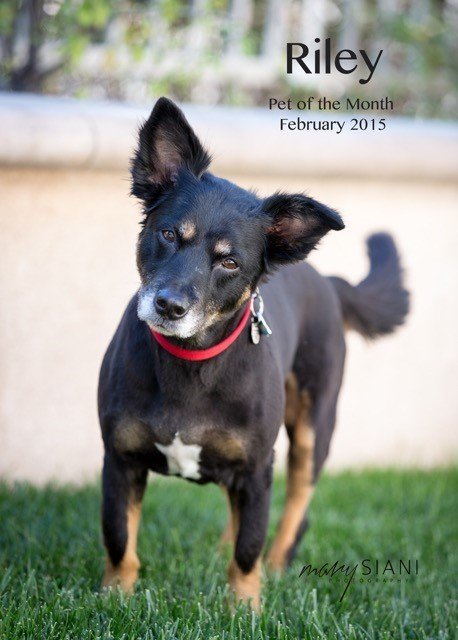 Riley is an 8 year old Australian Shepherd/ Cardigan Welsh Corgi Mix.
Favorite Activities: Chasing rabbits, Tug-O-War, and going for walks
Favorite toy: Ropes
Favorite Treat: Chicken Jerky
Special Talent: Begging for belly rubs & catching food thrown in the air
Mom & Dad report Riley enjoys being the center of attention, she is very sweet, and loves everybody. She and her sister (a 15 year old Dachshund) go to work with Mom everyday and even if she is gone for 30 minutes they act as though she is gone for a week.
Congratulations Riley on being our staff's pick for Pet of The Month – February 2015!
Enzo and Cooper are 7 month old rescued mixed breed puppies.
Favorite Activities: Running in the park with Mom and Dad
Favorite toys: Braided tug of war rope
Favorite Treat: Digesteez Chew Sticks
Special Talent: Does eating count?
Cooper is named after Mom and Dad's cars (Mini Coopers) and Enzo is named after the dog in the book "The Art of Racing In the Rain."
These two are littermates and have a special bond being brothers.  They take care of each other and it is sweet to see how they are best buddies according to Mom and Dad.
Congratulations Enzo and Cooper on being our staff's pick for Pet of The Month – January 2015!
Princi and Jersey are 6 and 8 yr old Yorkshire Terriers.
Favorite Activities: Fetching, chasing each other, hide and seek, sun bathing and napping of course
Favorite toys: Knotted Ropes and Nyla Bones
Favorite Treat: Boiled Chicken Breast
Special Talent:  Jersi is great at begging for treats, while Princi likes to play dead.
According to Mom & Dad Jersi was named after the state of New Jersey where they had moved and Princi's name started off as Prince but they added the "i" because of his cute personality.
Congratulations Jersi and Princi on being our staff's pick for Pet of The Month – December 2014 !
Bumbles is a 7 month Maine Coon.  He is a very handsome boy with an exceptionally sweet personality.  Every time he comes in our staff gets very excited and they can't seem to get enough of him.  He has been coming in to see us since he was a tiny kitten.  At 7 months old, he already weighs in at 9 pounds.
Favorite activity: Chasing Toy Mouse
Favorite toy: Toy Mouse
Special Talent:  He plays fetch like a dog!
According to Mom, Bumbles got his name after the abominable snowman in the movie Rudolph.
Congratulations Bumbles on being our staff's pick for Pet of The Month – November 2014 !
Daphne is a rescued 5 year old Poodle – Doxie Mix.  She is a very sweet girl. Just look at those puppy dog eyes!
Favorite activity: Sticking her head out the car window and going for long walks
Favorite treat: Rawhide Chews
Favorite toy:  Any kind of flat stuffed animal
Special Talent: She is exceptionally good at just being cute!
According to Mom… "A rescue group saved her from the shelter, and when we met her, we knew she had to be ours! She has brought so much joy to our lives."
Congratulations Daphne on being our staff's pick for Pet of The Month – October 2014 !
Elvis is a 5 year old Pug who we have been caring for the last 3 years.  His Mom reports he has a great personality, he loves people, and he loves going the the vet (that's us!). When he comes to see us, he is a super happy boy and we are unable to stop the continuous flow of kisses.
Favorite toy: Ball
Favorite activity: Fetch
Favorite treat: Chicken
Special Talent: He kisses everyone!
Congratulations to Elvis on being our staff's pick for Pet of The Month – September 2014!
Olive is a 16.5 year old Jack Russell Terrier.  We have been seeing her since she was 13 years old. Over a year ago she developed kidney disease/ kidney failure.  Currently, she receives fluid treatments 3-4 times a week, special medications, supplements, and she eats a prescription diet to help keep her as healthy, happy, and comfortable as possible.  She shares her home with her human family and 3 other Jack Russell Terriers. Her parents report she is the alpha dog in the house.  As you can see in her picture, she is still quite active and happy.
Her Favorite toy: a ball
Her favorite treat: Pill Pockets (Hickory Smoke Flavor)
Her favorite activities: playing ball and swimming in the pool
Congratulations to Olive on being our staff's pick for Pet of The Month – August!
Gilbert is 9.5 year old rescued long haired Tabby cat.  We have been caring for him for almost 2 years. He has Diabetes and he receives daily insulin injections. Gilbert sometimes stays with us in the hospital when his Mom has to go away on trips. His owner reports he lets her know when it is time to go to sleep by meowing at her until she comes to bed.
Gilbert's favorite toy:  cat nip pillow
Gilbert's favorite treat:  he doesn't like treats
Gilbert's favorite activities:  being brushed and sleeping
Congratulations to Gilbert on being our staff's pick for Pet of The Month – July!
As you can see, Jack is a very handsome 6 year old  Labrador Retriever. He is definitely a staff favorite and a model patient. After a major orthopedic surgery and many rechecks, he has never once complained and always has kisses for all the staff he encounters.
Favorite Toy: tennis balls, the kids' shoes, and the kids' stuffed animals
Favorite Treats: dog biscuits
Favorite Activity: chasing and retrieving his tennis ball
Congratulations to Jack on being our staff's pick for Pet of The Month June 2014!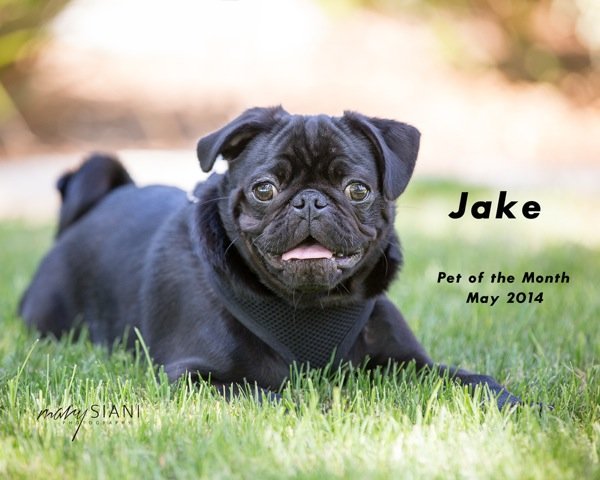 Jake is a 7 month old Pug who we have been seeing since he was a little puppy. Every time he comes in to see us, he brings smiles and laughter to all with his cute personality.
His favorite things are: people, playing, taking walks, and freeze dried chicken treats.
He shares his home with several cats and his Mom and Dad who report he has changed their life with his joyful spirit.
Congratulations to Jake on being our staff's pick for Pet of The Month May 2014!
Jackson is a 10 year old Poodle Mix. He is a happy boy who loves to go on walks and run around. Mom says he looks right into your eyes and tries to talk to you.
When they first got him, he had dance moves like  Michael Jackson and this is where he got his name. His favorite treats are Beggin' Strips and he loves to have his belly rubbed.
Congratulations to Jackson on being our staff's pick for Pet of the Month April 2014!